FaithFullBull's Jesse James
IPO3 In a Championship, 2015 GSSCC UPr2 and FPr3 Highest score, BST2, IDP2, DHT, GDT, ID3, ID5, IDOB2, IDTT, PH 44/46, OFA Prelim GOOD, Elbows Normal, NCL/Ich Clear, DNA Profiled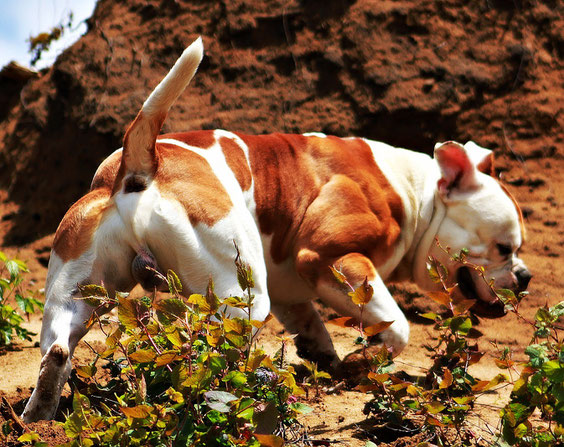 Jesse is definitely my favorite dog so far, and also the best worker I've ever had in my yard!
He is my main working dog and we train in Schutzhund. Despite his bully type, he is able to do whatever he is asked with success in this sport.
He is not a tall for a male, but he has definitely inherited the thickness of his mother, our girl IBC Ch/ABRA Jr Ch Press, and he also got his daddy Dual Ch Spike's insane muscle tone!
He is a very well balanced dog, everyone can pet him, whenever. He is very sociable (maybe too much? lol) and he also loves to cuddle!
As for what comes to his working ability, Jesse has very strong nerves, and has no problem at all taking pressure when being worked. Even with his phenotype, he is fast and ''tenacious'', he has great drive and high prey. He really wants and loves to work! 
When he was still an 11 months old puppy, we decided to enter an Irondog competition with him. We went, and brought back home these working titles : DHT, GDT, ID3, ID5, IDOB2, IDTT and the most impressive IDP1! Jesse not only is the youngest dog who ever got this protection title (IDP1), but he got it with flying colors with a score of 91%!
At the age of 15 months old we got his IPO BH title, at 27 monts old his FPr1 title and the IPO 1 at only 28 months old, we are continuing his training in schutzhund and aim the IPO 2 title with him this year. 
We are extremely proud of our production, and we will try our hardest to reach his full potential!
BORN: 06/18/12
WEIGHT:  82 lbs
HEIGHT AT THE SHOULDERS : 22 inches
HIPS: PennHip: 44/46
OFA Prelim hip: GOOD 
OFA Prelim Elbows: Normal
N.C.L : CLEAR (Parental Clear)
ICHTHYOSIS : CLEAR (Parental Clear)

Trial Irondogs, June 3, 2013, Jesse James 11 months old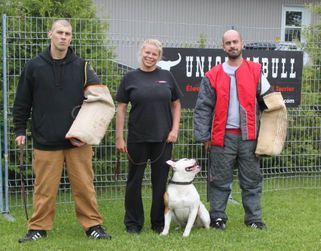 IPO BH for my young boy Jesse James of 15 months old! Picture of me and Jesse with Judge Dusan Majtas and my trainer J-c Champagne!
We got our FPR 1 title with Jesse James, at the provincial championship (24/08/2014), in my SCH club ( SCH Club Cyno Sport )!  We got a score of 92% !! (The FPr1 is the tracking of the IPO 1)Picture of me and Jesse with Judge Jim Chrisp and my trainer Jean-Christian Champagne!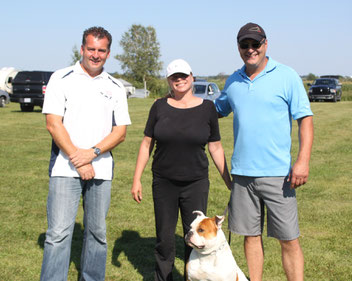 October 5, 2014, we got our IPO1 title with my boy Jesse James of only 28 months old, at the SCH Club Estrie!  We got a score of 250, 93% in tracking, 77% in Obedience and 80% in Protection with the mention Excellent for his courage !! Picture of me and Jesse with Judge Louis Vandepoe and my trainer Jean-Christian Champagne!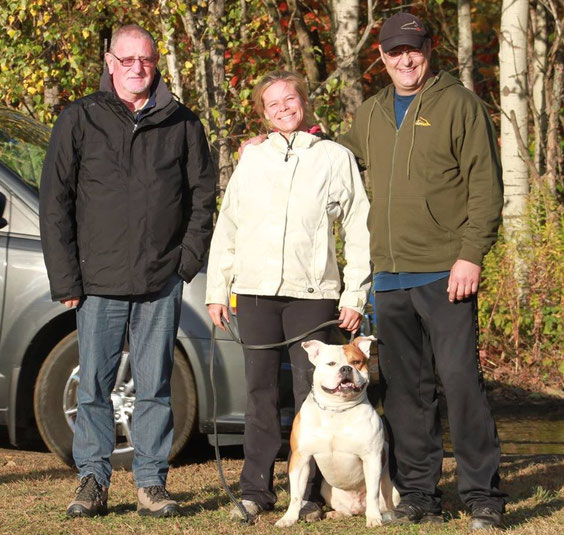 Jesse got his UPr2 (obedience of the IPO2) at club Schutzhund, Pro Sport with a score of 90% under judge Sergo Bogdan!! (06/13/2015) In 9 entered IPO, Jesse got a score equal to the highest score OB of all IPO.All the other dogs was the German shepherds!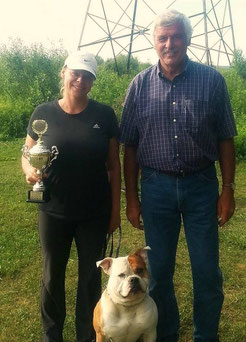 I took part in the trial at the club Schutzhund, IPO Sport with my lil bully boy Jesse James for a FPr3 (Tracking of the IPO3) under judge Frank Phillips. (07/12/2015)Jesse got the 2nd highest tracking in the trial with a score of 90%! The highest tracking was that of one of the two IPO1, with a score of 93%! The other dogs were German Shepherds and one Malinois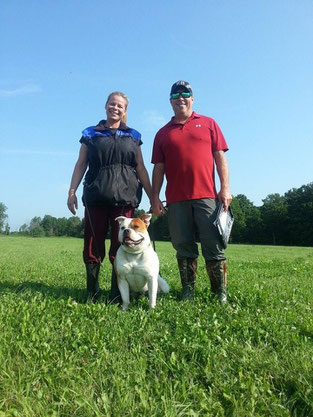 At 3 years old, Jesse get the IPO2 title with a score of 263 (tracking 93, obedience 83, protection 87 A)He has been ranked Best IPO in trial on 10 dogs (the other dogs was 8 German Shepherds and 1 rottweiler), Best trackin in the trial and Best OB in IPO2!Under Juge Dave Grant! (7-8/11/2015 at SCH Club IPO Nord)The judge was very impressed by Jesse's performance this weekend and had a lot of nice words about him in his comments after each disciplines.He even said that it was a privilege for him to judged Jesse and me this weekend!In tracking, he was VERY surprised to see a dog with such a short nose able to do the work with success!I would like to specify that the tracking field was VERY hard !!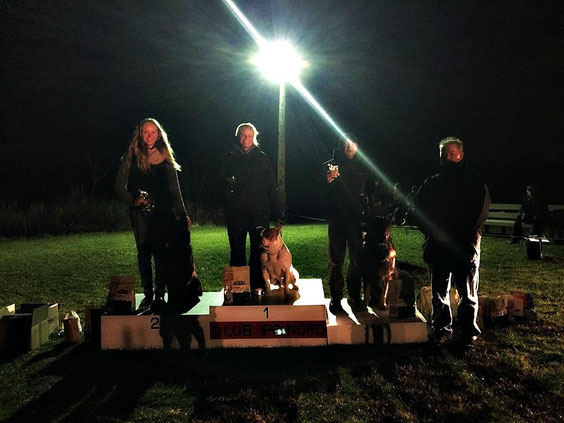 Jesse got 2015 GSSCC FPr3 and UPr2 highest score!!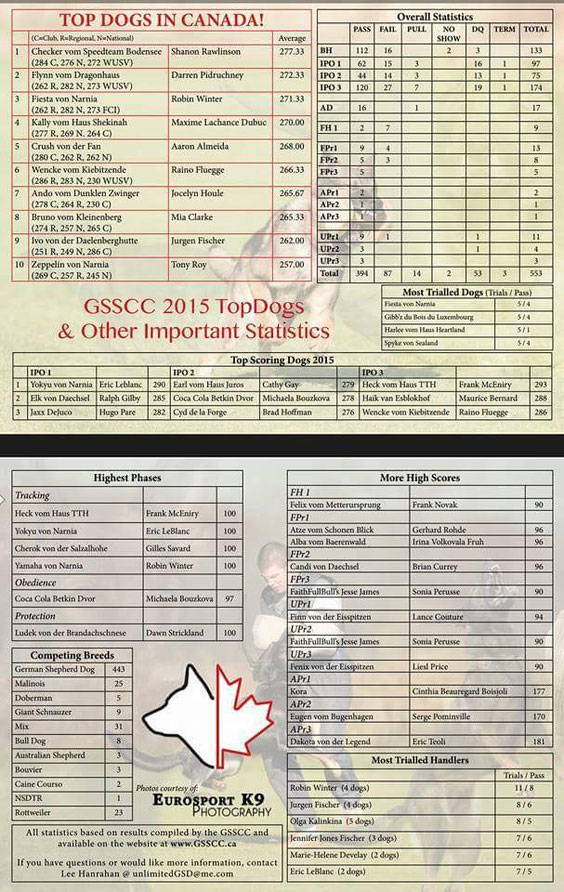 This weekend, Jesse and I went to Cyno-Sport SCH Club to take part in the GSSCC IPO Regional Championship (6-7-8 May 2016). My Lil Bully boy Jesse James is now titled IPO3! He was under judge Jim Chrisp with a total score of 258, 88 in Tracking, 80 in obedience, 90 in protection with a mention for courage!All the other dogs were German Shepherds of course and I was very excited to participate in a trial where the other contestants goals was to go represent Canada in the World Championships!My goal was just to put an IPO3 on my Bully American Bulldog and he got 7th place out of 13 for IPO3 at 3 years of age!I am extremely happy and proud and want to thank all the members of my SCH Club (Club IPO Nord) for their great help and support!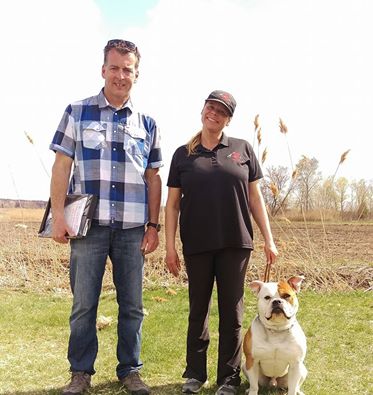 Health Certificates