Champion IBC and JR Champion ABRA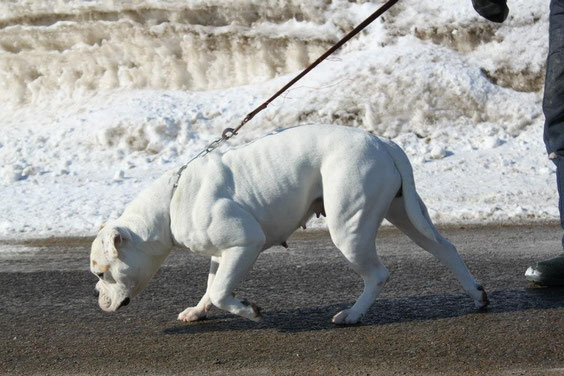 We imported Press from Boyd's American Bulldogs in California, she is a precious addition to our breeding program! We are fans of the Boyd's bloodlines! Press has the best conformation I have ever seen, when we bought her she was already an IBC Champion and ABRA Jr Champion.
She breathes like a charm, she has a great temperament and despite her bully morphology, she has great working ability and is very agile and fast. Unfortunately she has never been worked and since she is an older female (3 years old) we decided to put training time in her offsprings that we will keep from her rather than put training in her.
 We are extremely happy and proud to own that beautiful girl in our yard! Thanks to Matt and Suzie Boyd for letting us have Press!
BORN: 04/16/2009
WEIGHT: 72L
HEIGHT AT THE SHOULDERS: 21 1/2 inches
HIPS: PennHip Left .57 / Right .53 NO DJD 
OFA: Good
Elbows: Normal 
N.C.L : CLEAR (not a gene carrier)
ICHTHYOSIS : CLEAR (non porteur du gêne)


health certification tests