Blevins's King of Spades aka Spades
DHT, GDT, ID3(R), IDP1, IDOB1, IDTT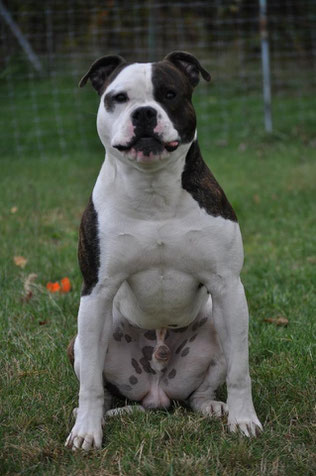 Spades is co owned with a pet home  here in Quebec.
I had Spades here in summer 2013 for 2 weeks. We wanted to evaluate his working abilities, and he really impressed us!
So I decided to take him back in Fall to work with him, with my trainer's help, to be able to trial at the Irondog competition we had not so long after. He had never been trained before!
After only 3 1/2 weeks of training, we took him to the competition and brought back home a few working titles, such as DHT, GDT, IDTT, IDOB1, ID3 (1st place out of 6 dogs), and he also got his IDP1 with a very nice score of 90%!
Spades is a natural worker. He has strong nerves and he learns very fast. I am still amazed that he got his IDP1 title with such little training and great score! Not many dogs got this title, and those that did, are experienced and dogs that have been trained for long!
Spades is a tall boy standing over then 24 inches! He has a nice, big hybrid head with complete pigment. He has a nice rear angulation, is pretty straight and he also is the brother to our beautiful FaithFullBull's Queen of Spades aka Queeny of Blevins, IPO BH, DHT, IDOB2, IDTT.
His dad is our Dual Champion (ABRA/NKC) FaithFullBull's Spike of Mightybull, SCH BH, DHT, GDT, ID3 (r), ID5, IDOB2, IDTT.
His mom is Dual Champion ABRA / UKC and Supreme Grand CHAMPION NKC Blevins' Kadee did it of Boyds/Wild River, PH.46/.42 NO DJD, NCL Clear, Ich Clear, NWDA Weight Pull Champion, APA Star 1, UWPCH, CGC, WTE, OBT, GDT, Sch.BH, BST, Iron Dog 3, NWDA Supreme Grand Ch. WP, NWDA Watch Dog title.
Kadee is owned by Blevin's American Bulldogs in North Carolina, she is one of the most titled Bully American Bulldog female in the world, and I have been lucky enough to put my hands on this amazing female twice!
We recently got his Pennhip results back, and he got very nice score of .29/.21. 
BORN: 02/22/12
WEIGHT: 
HEIGHT AT THE SHOULDERS: 24 1/4 inches
HIPS: PennHip: 29/21
OFA:
Elbows:
N.C.L : CLEAR (not a gene carrier)
ICHTHYOSIS : CLEAR (not a gene carrier)