CH Boyd's Hi-Jumpin Mikie
OFA Good, ED Normal, PH .46/.43 SCH III, BST
We have obtained frozen semen Mikie by Matt Boyd! And we are extremely excited of the use with one of our female!!
The idea behind the purchase of his semen, is to go back to the sources, from the time when the American Bulldog was true working dogs, and HAD to work and were selected as such. I want to get something that we can't really get anymore with the modern selection, with the exception of only a few breeders.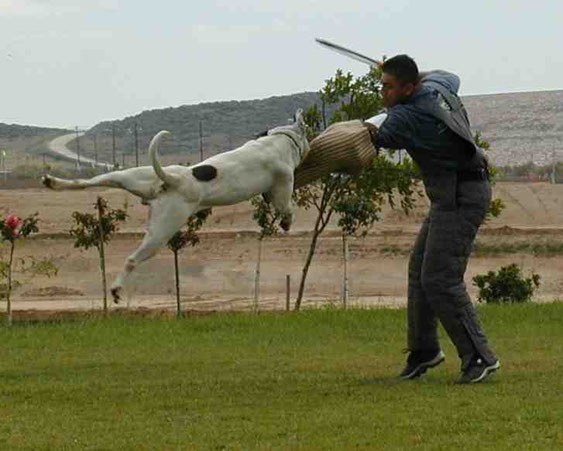 Mikie to be a great bulldog and one of the first to not only bulldogs ACQUIRE Schutzhund title but to Produce Schutzhund title with his offspring!
I have a few videos of of him at work when he was still just a beginner. I have no videos of him after or during he passed his Sch levels, as a more experienced dog.


When was Mikie born; where and when did he die?
Mikie was born on April 13, 1994 and died July 14, 2003, both at our homes in Sacramento, CA. 
Who did you buy him from or who bred him?
Mikie was a puppy we bred and sold to Anthony Dorado.  When he was 1 ½ years old, Anthony approached us and asked us if we would like to buy him back, and we jumped at the opportunity.  We had his ½ brother Cleaver, and his littermate, Fire Engine Red, but lost both in a summer airline incident earlier that year.
How was Mikie as a pup?
He was playful and very outgoing.  He was alpha pup, and was always big, robust, and rough.  He had a broad head with a very wide eye-set, and super thick bone.
At what age did he get his first grip on a sleeve; by who??
Mikie got his first bite with Dean Calderon at 1 ½ years old; he was discouraged from doing any sort of bite or tug work as a puppy.
What drive did Mikie seem to work of naturally?
Mikie was always super intense and civil.  His prey drive was strong, but due to his upbringing, we never knew what he would have been like if he was encouraged in prey as a pup.
What were Mikie's working titles?
BH September 1996; BST, March, 1997; Schutzhund 1, March, 1998; SchH 2, Fall, 1999, SchH 3, June, 2000
At what age did Mikie acquire his first sch title and his bst, if he got one?
Mikie was almost 3 when he got his BST, the second American Bulldog to get a BST title.  His SchH 1 came one year later at almost 4 years old.
What was his hip score or ofa rating?
Mikie  was PennHip 0.43, 0.46 (no DJD) at 20 months, and OFA Good hips and elbows at 42 months.
Whats was Mikie's weakest trait? His strongest trait?
Mikie's strongest traits were his temperament and overall physical soundness-amazing for such a big, blocky dog.  His weakest trait was his fertility, which started dropping around 6 ½ years old.  His last litter was sired when he was 7 ½ with Boyd's Reba, SchH1.
What was his full grown typical weight?
Mikie weighed between 98 and 110 lb. as an adult.  I liked him best at 106-108.
What's Mikie's highest score on his titles?
Mikie got a 284 on his SchH 1 title, with a 98 in tracking and a 100 in protection!
What would you say struck you the most when you worked him in sch?
His intensity and power were awesome.  I felt like a 10 year old kid on a Fat Boy Harley!
What did you hate the most about him?
I hated the way he would drool constantly.  I ended up keeping him outside much of the time for precisely that reason.  He would slime you as soon as you put clean clothes on.
What did you love about him the most?
The thing I loved most about Mikie was also the thing that drove me crazy.  He would always get me dirty because he just had to be close to me.  He was such a faithful, loving dog.  He was also a strong tracker, something I am beginning to suspect is the same trait that would cause him to constantly bury his drool-covered nose in my pant leg to see where I had been.  As a breeder and judge I loved Mikie because of the all around excellence of his temperament, structure, type, and health.  I have seen very few dogs as outstanding in so many areas as the old Mikester.
Was he an outside dog or inside dog?
Mikie was both, but his drooling mouth caused him to end up outside more and more as he got older.
Does he have he any direct brothers or sisters from the same litter?
There were 12 pups in Mikie's litter, the first litter we had.  It was one of the last breedings of Rip N' Woody, and to our soon-to-be-first OFA excellent AB, Moleque.  Some well-known dogs from that litter were Fire Engine Red (a Jordan look-alike), Sommers' Athena/Cody (the dam of Koa, Woodchip SchH 1, and Lorena), and Madrigal's Strike/Woody Jr.
If you were to clone one of his traits what would that be?
How about the whole dog!  But, if I had to pick one, I'd clone his hardness on the working field yet gentleness at home.
Who were his trainers?
Anthony Dorado trained him in weight pulling (He won the only weight pull he was ever entered in at the first Fresno show, by pulling slightly faster than Putnam's Bully).  I started the preliminary bitework and obedience with him, Robert Faber took him on to his BST, Andreas Muller did the SchH 1, and Tom Riche finished up his SchH 2 and 3.  He was worked by quite a number of bite helpers and I still hear the stories.  Working him was an occupational hazard.
If you had the chance to own another Mikie would you change anything in his  training?
Mikie would have been a much better sport dog if he had gotten an earlier start and had his prey/play drive encouraged from puppyhood.  I am happy with the work each trainer did with Mikie, but I think he would have achieved his titles more quickly if his training had been done by one person all the way through.
Would you say Mikie was a hard biter or medium?
Mikie was never anything but a hard biting dog.  He would leave massive canine marks on the hard sleeve, unlike any I have seen before or since.
At what age would you say Mikie went on a hard sleeve; was he a natural full grip dog?
Mikie went on the hard sleeve on his second bite during his first time out at 1 ½.  He was a natural full grip dog, although he could get a little chewy, growly (or dirty) under stress.
At  what age did he start his bark and hold in the blind?
He started his bark and hold at two years old, not long after he started his bitework.
How was he around your family?
Mikie was super around my family.  I never had a single incident of him being anything but totally trustworthy and sweet around us.  My kids could climb all over him and he loved it.  He did want to get ahold of a few people who came to look at the dogs when I wasn't home, but was always cool when I was there.
Would you say Mikie was a typical Bulldog from what you have seen of out there? 
Mikie was a true old-style bulldog who could do anything—sportwork, property protection, and farm utility dog/ family pet.  He was even proven on cattle, instinctively herding them when they were calm, but catching one of my 900 lb. cows by the ear one time when I was loading them up and they busted through the fence.  I know that there have been thousands of bulldogs like him, but I don't seem to see that many anymore.  It doesn't take long of breeding away from working ability and crossing in non-working breeds to wreck a breed.
What was the strangest moment you had with Mikie, or an event that blew your mind  or scared you? 
As Mikie got older and was worked more in schutzhund, he became more dog-aggressive.  On the way back from a Las Vegas show a few years ago, I stayed at a hotel in Tonopah, Nevada with my kids and almost ended up losing him.  Early in the morning, I went with Mikie (off leash) out the hotel door so he could relieve himself, thinking no one was up yet.  He ran out, around the corner of my truck, and a terrible yelling and squealing began.  It turns out a little old lady had her small dog out for a walk at the same time (it was identical to a dog that used to torment him across the fence at home).  At first I thought that the old lady had gotten bitten, but then I realized that he had grabbed the little dog with retribution in mind.  Of course he forgot the "out" command, but eventually let go after I had lifted him up, choking him out for a while.  The woman's son showed up and said that in Tonopah, police shoot any "pit bull" like him that causes any trouble.  I had to run to a casino to get a couple of hundred dollars out of an ATM machine to calm him.  Fortunately, the poor little dog recovered and nobody else was hurt.  I got Mikie out of town before the cops showed up, but I did have to send over $500 more to the people to pay for the vet bill.  I was thanking God that I got Mikie home and that there were no further repercussions.  Still, that ended up being one expensive dog show trip!!!
What was the biggest event /trail he attended /entered; what was the outcome?
The biggest trial Mikie was entered in was the AWDF Nationals in Arizona in late 1999 or early 2000. Tom had arrived several days early with him and did some practice on the field.  Mikie was in his usual form, delivering some awesome hits with decoys lining up to try catching him.  The day of the trial came and something wasn't right.  He loped slowly through the blind search, then didn't want to engage the decoy in the blind.  He jumped at the sleeve, but didn't seem to open his mouth.  He ended up being disqualified.  Later, when Mikie was back home again I noticed that from time to time he would get extremely sensitive around his head and neck and was unable to turn his head at certain angles, whimpering like a puppy if I just lightly touched him there.  We determined that he had gotten- or reaggravated- a neck injury at the trial, possibly picked up at some previous bite session.  We will never know for sure what happened, but all things happen for a reason.  The great chance to show Mikie off to all the working enthusiasts ended up bringing just the opposite of the admiration that we thought Mikie deserved.  People thought he was a slug!  That was one of the most disappointing experiences of my life, but I know God's plans are much better, and often different than my own, so I accept it as it was.
Does Mikie have any offspring doing sch?
Mikie produced a lot of excellent working dogs.  A number of them are still working towards their first working titles, or have achieved lesser titles such as a BST, but there are four that have already achieved their SchH 1 or better:
Boyd's Thunderstruck Hank Williams Jr. BH, AD, SchH 1
Boyd's Coal Chamber BH, WST, SchH 3
Joye's Fireball Red of Boyd (Magnus) BH, SchH 1
Boyd's Thunderstruck Reba McIntire, BH, AD, SchH 1  
Souza's Dixie Lee Dam to Sch1 Matias.
How many offspring does he have?
Mikie had 29 litters.  I am not sure exactly how many puppies he had, since some of the litters were handled by one of his other owners (Anthony Dorado and Robert Faber).  It seems like a lot of litters, but if all the healthy schutzhund and ringsport titled dogs had been bred as much as Mikie, our breed would be in a much better place.  The only way for a great dog to impact the future of the breed is by being bred.
When trainers work him what was their most typical quote or assessment of him?
"Nice dog.  Scared the  #$@  out of me in the blind!"
Do you still have sperm?  If so, what are the ultimate goals or plans for that available breeding?
I do have some frozen semen from Mikie, I do not plan to use the semen I own as long as there are excellent sons and ½ brothers of him still producing puppies.  Rob Boyd's Hammer, BST 2, is a ¾ brother to Mikie who is not being used much as a stud, even though he is still producing at 9 years old!  That is one of the biggest tragedies happening in the breed right now.  Ostergaard's Tatanka, SchH1, Souza's Koa and Mathias, and Dani Keukelaar's Tegan are other ½ brothers, nephews, or grandsons of Mikie who have have produced some awesome, well-rounded puppies.  Additionally, the schutzhund titled sons of Mikie mentioned above have proven that they carry the torch and must be considered as stud dogs. Finally, my own Mikie son, Air Jordan has shown that he can do some nice little bitework himself (but is still a long way from a title).  But remember, if your primary interest is in working, there is no excuse for not breeding to-or getting a puppy from-a titled dog.